Gazebo Introduction
The marble gazebo with ladies is hand-carved by our artists. This gazebo consists of six gazebo columns, and the biggest highlight of this gazebo is its character gazebo columns. These six pillars are created with the image of women with broken arms, and they are all hand-carved by our masters. These ladies smiled and looked straight ahead with graceful gestures. If we look closely, we could see that the surface of its gazebo beams and bases are all carved with detailed carvings. In addition, the gazebo is also designed with a spacious entrance and stone benches, which are very convenient for people to enter the gazebo to rest.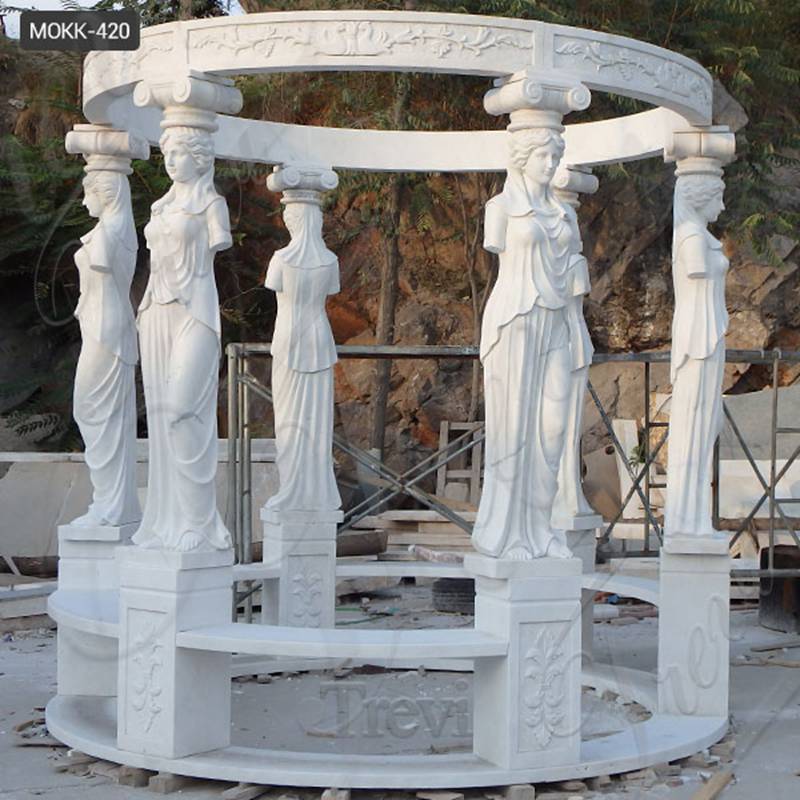 Hand Carved Masters
From these exquisite gazebo columns, we could see that the masters of our factory have super carving skills. In fact, most of them come from Quyang, the hometown of sculpture in China. They have been learning professional marble sculpture skills since their teens and have decades of experience so far. What's more, we have top masters who specialize in character carving, who could present the demeanor, appearance, and proportion of the characters to the greatest extent. Many customers came to visit our factory before, and they were amazed at the carving skills of our masters.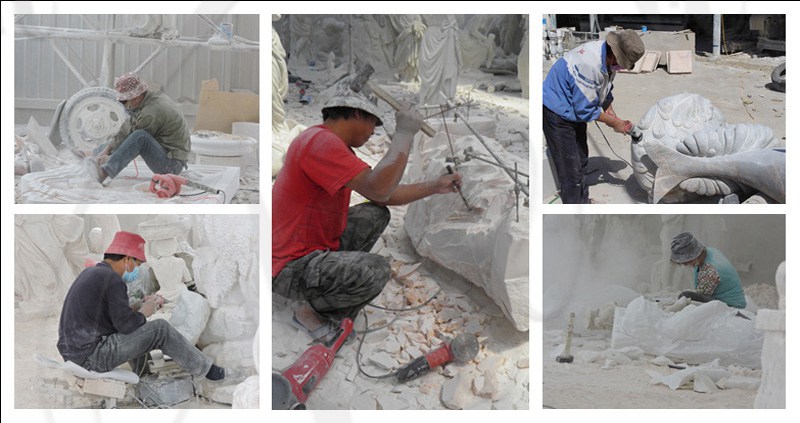 Many Other Designs of Gazebo
Our factory could supply various styles of marble gazebos, and our marble gazebos are all made of natural marble materials. Therefore, we would provide customers with a variety of gazebo shapes on the premise of ensuring the quality of the gazebo. Take this open-air figure pillar gazebo as an example. This is an open-air gazebo without a gazebo cap. Generally, customers who buy it would put it outdoors to decorate the environment or rest. But there are areas that are susceptible to weather and could not use it. Then we would provide matching gazebo tops for these customers so that you could enjoy them to the fullest even on rainy or hot days. In addition, our factory has other styles of gazebos for you to choose from. If you have time, we also welcome you to come to our factory to experience it on the spot. In short, our high-quality products are always waiting for your purchase.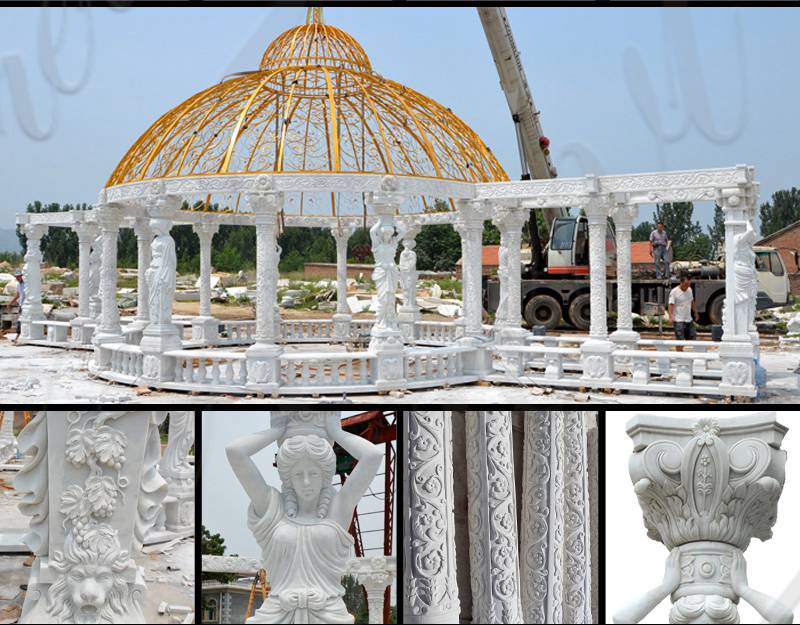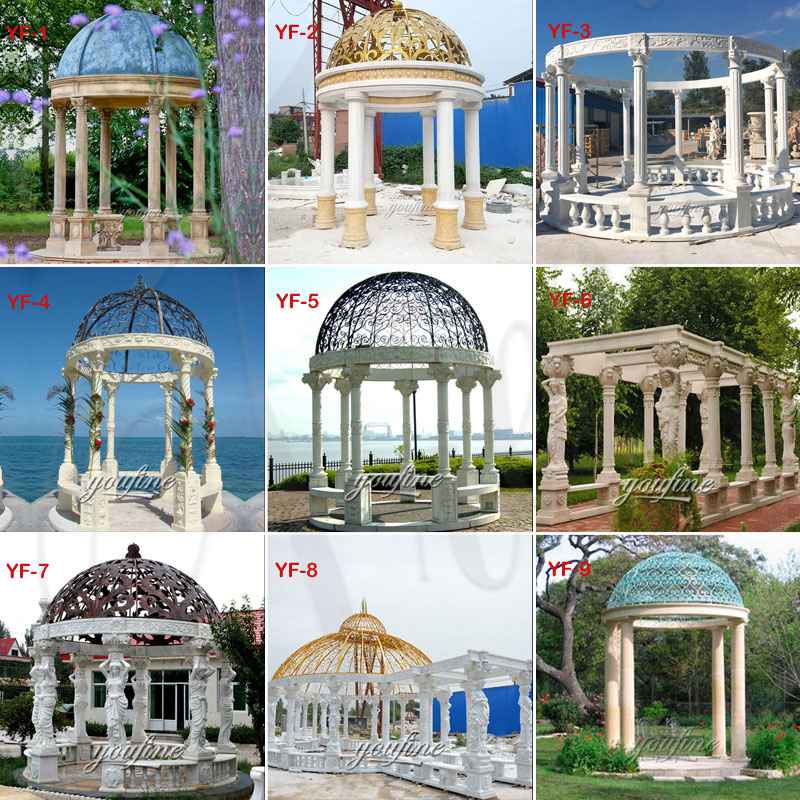 Provide Installation Instructions
The marble gazebos purchased by many customers are larger in size and could not be installed by themselves after receiving the goods. But customers who buy gazebos at Trevi know that we provide professional installation instructions. Even we would inform customers in advance to make necessary preparations, and our team would seriously remind customers of the matters needing attention during installation. After the customer receives the goods, we would patiently guide the installation to the customer until the customer successfully installs the product. In conclusion, you don't need to worry about these issues when buying in our factory.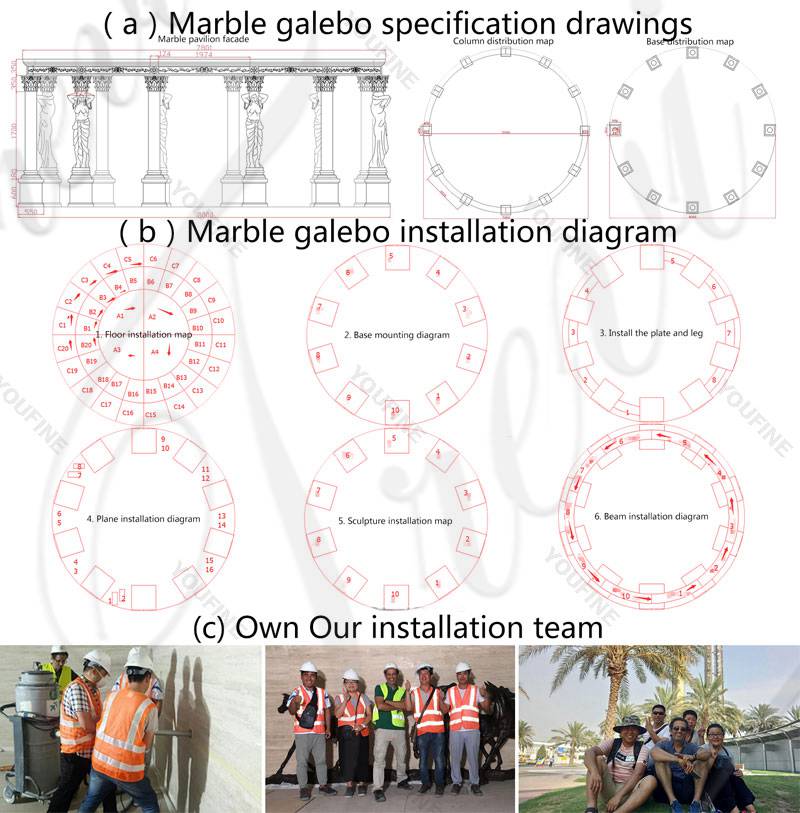 If you need the marble sculpture, come and consult us, we would also get a discount for you, Trevi looks forward to your visit.