Column Gazebo Details:
This marble column gazebo is done by an excellent carver from Trevi. It has a unique shape and is pure white in color. The top is a white flatter oval hat. There are 8 pillars under it for support. The surfaces of the columns are smooth. At the bottom of the column is a circle of small stone piers in the shape of bottles, which are closely designed for people to sit and rest. The gazebo does not have many ornaments carved. And this simple style makes the gazebo more classy.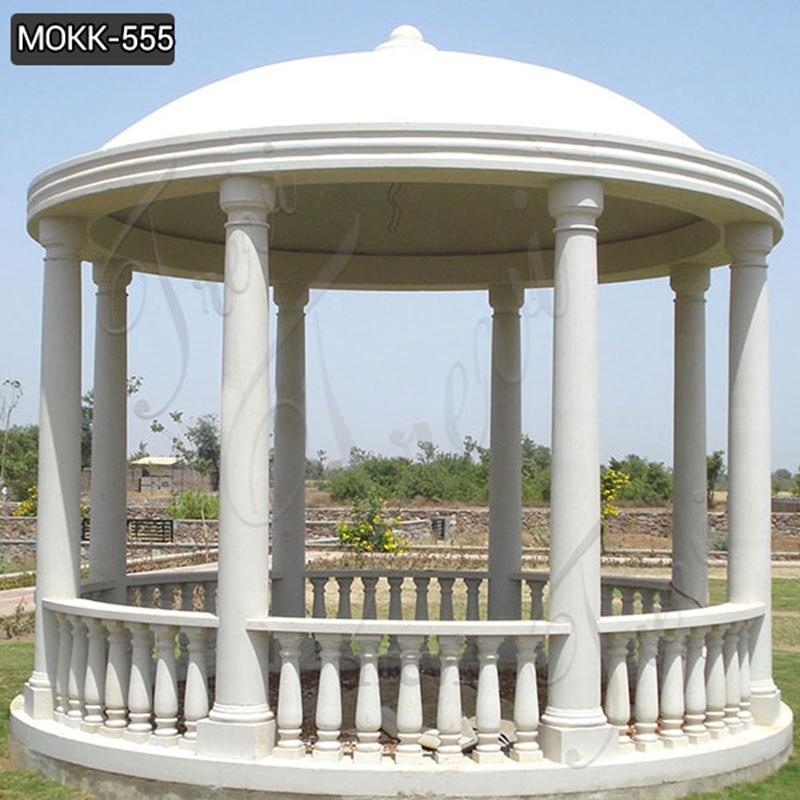 Where Could These Pavilions Be Placed?
The marble gazebo has always been very popular with people. So where do people often place these marble pavilions? In fact, after a little observation, you could find that gazebos are everywhere.
When you go out to play, you would see column gazebos in places such as scenic spots, parks, or squares. The pillar gazebos in these public places are generally to attract people's attention, or for tourists to rest in the shade. In addition, some people install gazebos in their backyards or gardens. This kind of gazebo is generally exquisite, and the owners could bring their good friends to drink tea and chat in their spare time, which is very comfortable.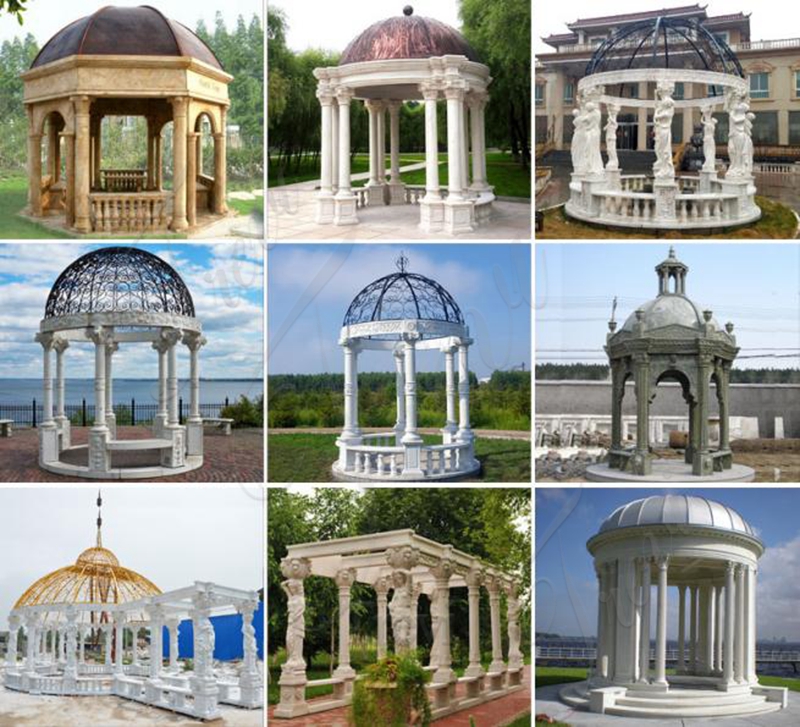 Advantages of the Trevi Gazebo:
We would install baffles on top of the beams in the upper part of the pavilion. The U-shaped steel used for shockproofing is used here, which has a good shockproof effect. Moreover, our column gazebo is entirely hand-carved by Trevi's carvers. They have at least 20 years of carving experience. They are good carvers and have great attention to detail. Therefore, our marble gazebo is both practical and beautiful.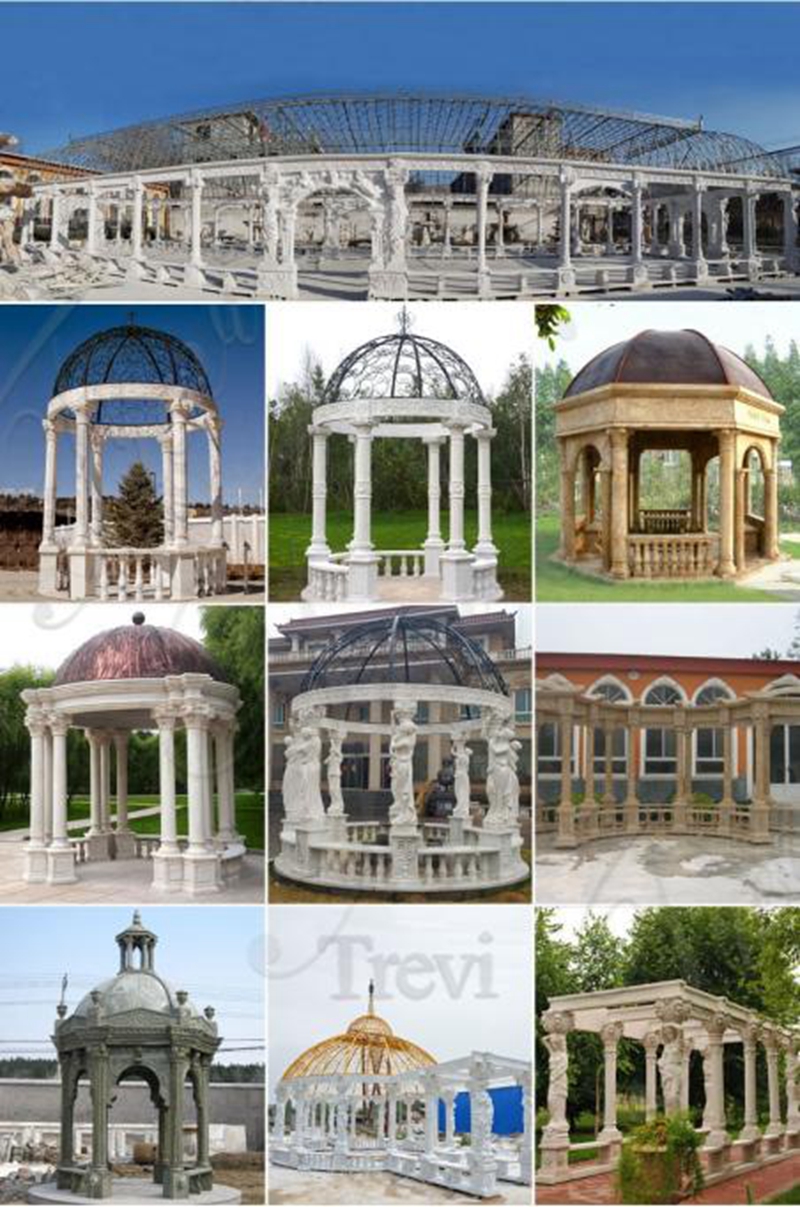 Our Exclusive Service:
If the customer chooses to buy the marble gazebo from Trevi, we would carefully check whether all parts of it are complete and undamaged before shipping. When shipping, we pack it in a 3cm thick wooden box and wrap it with foam cotton inside to prevent bumps. After the customer receives the gazebo, he would also receive the gazebo installation drawings that we provide. There are detailed installation steps above, which are convenient for customers to install the gazebo smoothly.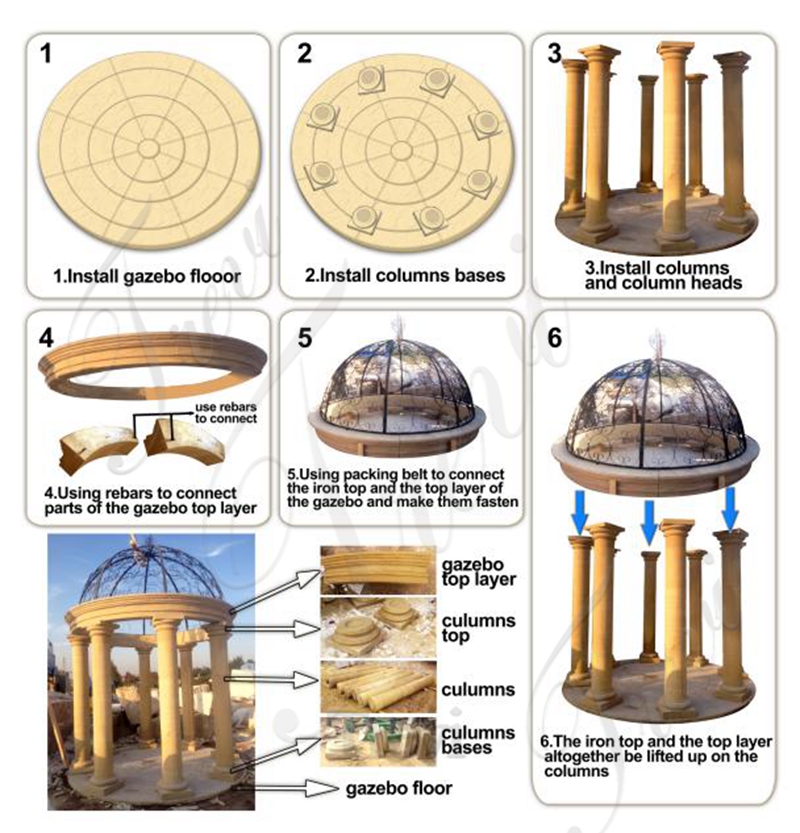 If you are also interested in our marble column gazebo, please contact us. We would reply to you in the shortest time after receiving your message.